More "Likes". More Followers: Savvy Ways To Mix & Mingle On Social Media.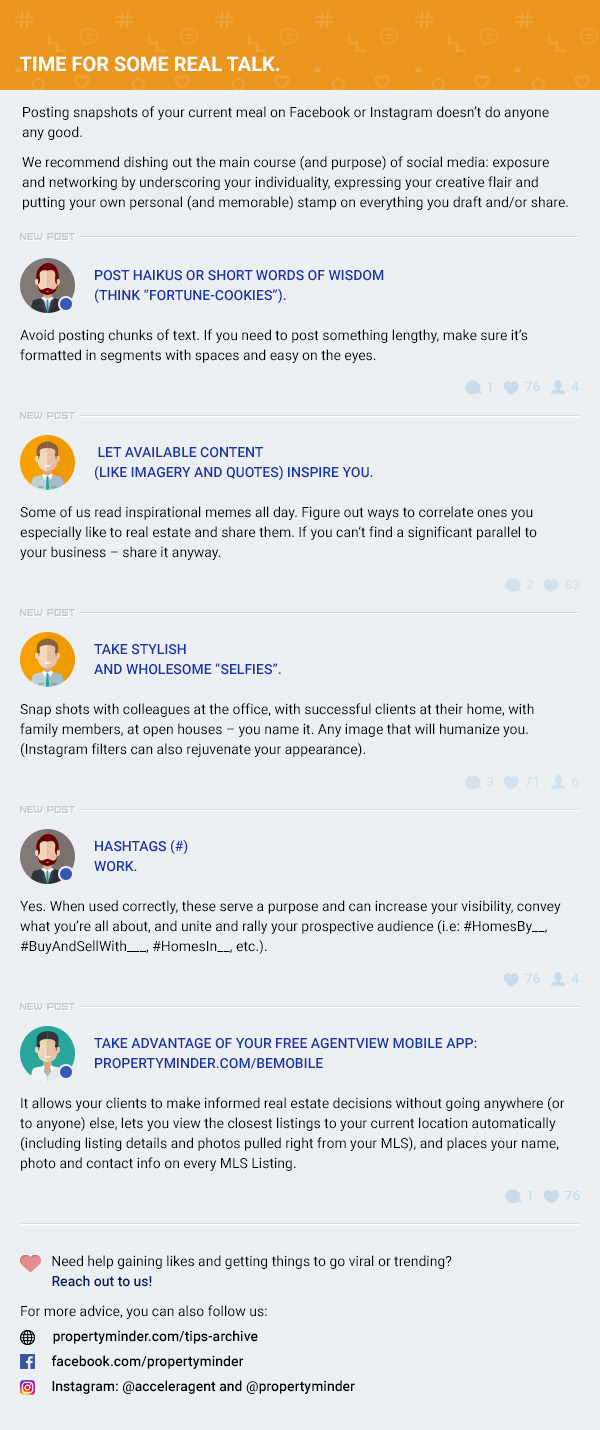 Time for some real talk.
Posting snapshots of your current meal on Facebook doesn't do anyone any good.
If anything, it'll just remind people that they're hungry or why they became a vegetarian.
We recommend dishing out the main course (and purpose) of social media – exposure and networking by underscoring your individuality, expressing your creative flair and putting your own personal (and memorable) stamp on everything you draft and/or share.
Americans spend more than 2 hours on mobile devices and social sites everyday.
It's imperative to stay savvy and relatable when mingling online.
1) Post haikus or short words of wisdom (think "fortune-cookies").
Avoid posting large chunks of text. If you need to post something lengthy, make sure it's formatted in segments with spaces and easy on the eyes.
2) Let available content (like imagery and quotes) inspire you.
Some of us read inspirational "memes" all day. Figure out ways to correlate ones you especially like to real estate and share them. If you can't find a significant parallel to your business – share it anyway.
3) Take stylish and wholesome "selfies".
Snap shots with colleagues at the office, with successful clients at their home, with family members, at open houses – you name it. Any image that will humanize you. (Instagram filters can also rejuvenate your appearance).
4) Hashtags (#) work.
Yes. When used correctly, these serve a purpose and can increase your visibility, convey what you're all about, and unite and rally your prospective audience (i.e. – just fill in the underlined portion with your info: #HomesByYourName, #BuyAndSellWithYourName #HomesInYourLocation).
5) Ask and you shall receive.
– Many Facebook aficionados have taken quizzes. Do a quick search – they're out there. Share one that you can tie back into real estate (i.e.- What State Do You Actually Belong To?", "What City Should You Live In?")
– Then, attach a message: "By the way, have you thought about your home value? Would you be interested in learning more about the market in your area?" (This is where Seller's Corner comes in handy).
While you're at it…
6) Take advantage of your AgentView Branded Mobile App. 
– Allows you to view the closest listings to your current location automatically (including listing details and photos pulled right from your MLS).
– Places your name, photo and contact info on every MLS Listing.

–Allows your leads and clients to make informed real estate decisions without going anywhere (or to anyone) else.
Need help gaining "likes", standing out and getting things to go "viral" or "trending"? Reach out to us for personally-drafted content and tips specifically tailored to catch the eye of your target audience(s). Let's get social!
 Have a great week,
Tim
408.213.4668
tim@propertyminder.com
More marketing advice can be found on our featured
Tip Of The Week Archive & Current Tip Of The Week webpages.