A $824,000 Reason To Reach Out (Home Seller Infographic)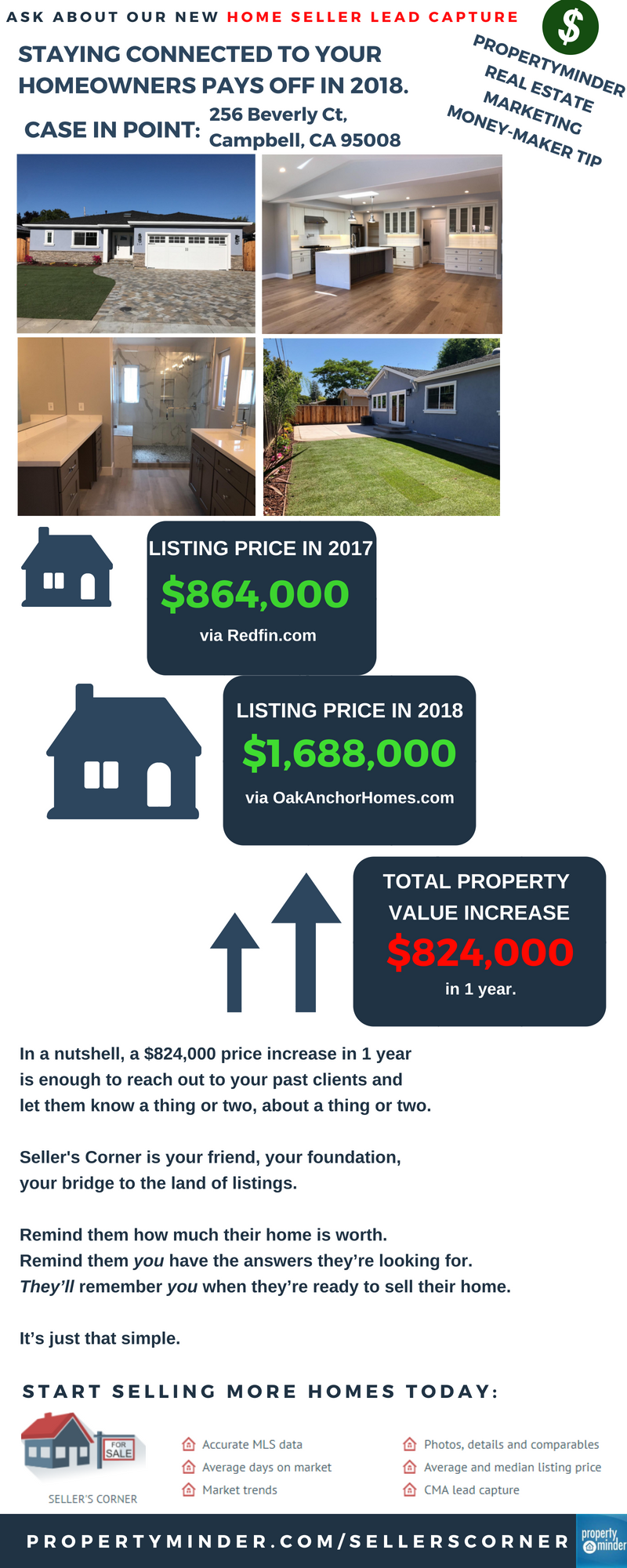 Staying connected to your homeowners (via Seller's Corner) pays off in 2018.
How?
Case in point: 256 Beverly Ct, Campbell, CA 95008
– Listing Price (2017): $864,000 (via Redfin)
– Listing Price (2018): $1,688,000 (via Oak Anchor Homes)
– Property Value Increase: $824,000 in 1 year.
In a nutshell, $824,000 price increase in 1 year is enough to reach out to your past clients and let them know a thing or two about a thing or two.
Seller's Corner is your friend, your foundation, your bridge to the land of listings.
Remind them how much their home is worth.
Remind them you have the answers they're looking for.
They'll remember you when they're ready to sell their home.
It's that simple.
– Tim
Marketing Director
Direct | 408.213.4668
tim@propertyminder.com
1101 S. Winchester Blvd, J-225
San Jose, CA 95128
Buy Just 3 Months, Get 2 Completely Free
+ Free Service For Existing Customers With Our Referral Program
Weekly real estate marketing tips can be found on our featured Tip Of The Week Archives and our ActiveRain Blog.
SIGN UP to receive our emails!
Free, weekly, extensive insight on how to increase your listings, fully nurture your buyer and seller leads, boost your referrals, maximize client retention, stay top-of-mind, and strengthen your marketing efforts (includes direct access to cutting-edge real estate marketing technology designed in the heart of the Silicon Valley).